For those that know me well or have worked with us here at My Sun My Moon know that I am a full blown city girl. I am not talking about a heel wearing, hair constantly done, big jewelry city girl. What I mean is that I love noise. The noise of people, cars and normal day to day noises. Now some love the peace of the country and don't get me wrong I adore it now but truth be told its scary as F@#% . I mean the first night in our new home I thought a scene from the movie Deliverance was playing out in my backyard. Come to find out it was actually my neighbors goats wandering into our field and going at it. Needless to say my husband returned home late that night to me in the corner rocking in fetal position begging him to see what the hell was going on outside. Now I will be the first to say I put on a front. When we go outdoors in the woods for pictures I am Katniss in The Hunger Games ready to kill shit with a bow. But then a bunny rabbit will make a noise and I have officially lost my s%*$. What better way to explain this than with my Spirit Animal Winona Ryder:
Now imagine me trying to decide if I should fight or flight. Now Katniss, she would have fought, my ass, my ass would have fled. Now I know Sam has captured this image perfectly. As seen below.
So after this capture of sheer terror, Sam will inform me its just a rabbit, squirrel, enter name of ridiculously cute animal here. So I being the badass I am will go further into the spot where she is going to take the shot, shooing away these devil beasts and Sam will look at me like a proud parent and say good job and I reply with: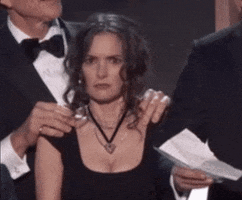 This right here in this moment where Winona Ryder has no idea what the hell is going on is why Winona Ryder is and forever will be my spirit animal.
Friday Ebersohl